Many people in West Sussex are becoming increasingly aware of the importance of not harming the natural environment so green, environmentally friendly burials are becoming very popular.  These burials involve using only biodegradable materials and often involve planting a tree at the site to mark the grave or using a wooden biodegradable head stone.
There are a number of natural burial sites in Sussex, including;
Clayton Wood is a beautifully tranquil natural burial ground, set within the rolling hills of the South Downs National Park. You can be part of a new English wood, set in 15 acres of countryside that will be protected from development. Opened in 2008 below the Jack and Jill Windmills, our beautiful woodland burial site at Clayton Wood has various dedicated areas for full natural burial and cremated remains, as well as memorial scattering lawns, surrounded by native trees for future generations to enjoy.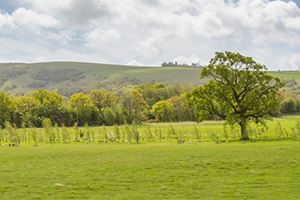 Set on the edge of the city overlooking the sea and the South Downs in Woodingdean, Woodland Valley Natural Burial Ground offers a peaceful environment to lay your loved ones to rest. Situated within the Lawn Memorial Cemetery and planted with a range of suitable trees and features, Woodland Valley has been designed to create a meadow and woodland burial ground for interment and cremated remains.